Anyone else getting excited for spring? Well in these last few wintery weeks, it's sometimes best to turn your attention indoors when you want to brighten things up. I've been thinking about a new trend lately and I have to say, I'm sort of torn. Today I'm talking about: hanging up neon signs at home.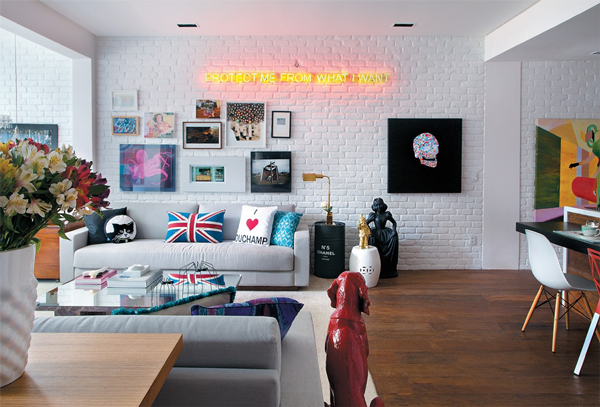 I've got to be honest. Personally, I'm not a big fan of words on walls. Decals or stencils can sound bossy to me. "EAT," "PLAY," "LIVE, LAUGH, LOVE," etc. tend to read like orders being shouted in my mind. But I do love eclectic, funky design – so the idea of a custom, glowing sign does peak my interest.
Many neon signs seem to tell a story – I think there's often an element of whimsy and humor that comes with these tubular tales. I'm just not sure I can think of something I'd want to say…every single day…

And while I like the medium, my number one concern is what a neon sign looks like when it's not plugged in and glowing. Is it still readable? Are the cords unsightly?

In the end, I think my friend, Brian Patrick Flynn, had the right idea when he designed this beautiful room above – if it makes you happy, get yourself a neon sign. As for me, I think I'll be waiting awhile before committing to the trend…kind of like that tattoo I've been considering for a decade or two…
What do you think about neon signs at home? Are you glowing crazy for them or have you been blinded by the light?
Photo One – Source
Photo Two – Source
Photo Three – Source
Photo Four – Source
Photo Five – Source